Centrale / Supélec Congress

This 4th edition of the Centrale / Supélec Congress will bring together the Centrale School network of Nantes, Lille, Marseille, Lyon and Centrale Supélec in an exceptional setting: The Nefs and the Galerie des Machines de l'île.
Programme:
From 3 pm
Welcome to Nantes, Maison des Hommes et des Techniques

4.00 pm
Workshops, run by the presidents of the alumni associations, on the role of
Centraliens
(Centrale alumni).
The role of Centraliens in technological innovation
The role of Centraliens in ecological transition
The role of Centraliens in civil society
Development of the Centralien and Supélec community
6.30 pm
Welcome to the Machines de l'Ile de Nantes
7.00 pm
Conference opens with Gilles-Emmanuel BERNARD, president of Centraliens de Nantes, in the presence of all the Centrale and Supélec Association Presidents
Speech by Arnaud POITOU, director of Centrale Nantes
7.15 pm
Plenary session in "Rue des Nefs"
7.20 pm
Workshop feedback (5 mn per workshop)
7.40 pm
Conference and round table:
Perspectives on the notion of scientific progress in a changing world -
broadcast live
9.00 pm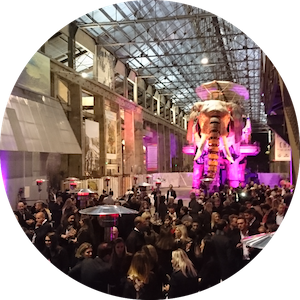 Buffet // Galerie des Machines visit
11.30 pm
Event closes
Side events
During the evening buffet, guests can have a private guided tour of the Galerie des Machines. New for 2019: the sloth.

Photobooth: capture this unforgettable evening in a photo.

About the Machines de l'Ile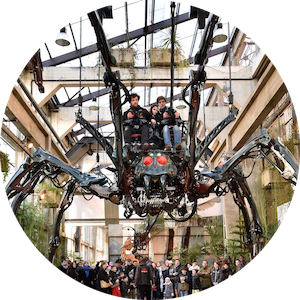 The Machines de l'île is a totally unprecedented project. A product of François Delaroziere and Pierre Orefice's collective imagination, it is the only place where you'll find Jules Verne's "Invented Worlds," the mechanical universe of Leonardo da Vinci, and Nantes' industrial history, all on the exceptional site of the city's former shipyards.

The Galerie is a living space showcasing a veritable bestiary of machines. The machines built in the workshops of theatre company, La Machine, are tested in this lab.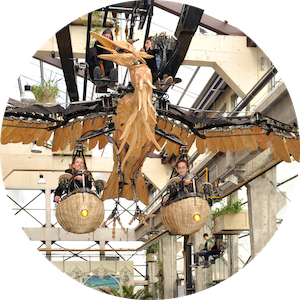 During the visit, the machinists will explain the history and workings of these strange creatures and breathe life into the imaginary world of the Arbre aux Hérons (Heron Tree), a major project of Les Machines de l'île.

In 2019, a Sloth joins the first prototypes to populate our tree!
Published on April 10, 2019
Updated on August 30, 2019
Register here for the Congress
Photos from LVAN
Many thanks to:
La Galerie des Machines. Les Machines de l'île. Nantes (Loire-Atlantique). © Jean-Dominique Billaud_LVAN